Hyperbaric Medicine Foundation's vision is one of a sustainable, flexible hyperbaric care model that allows for both private and hospital-based hyperbaric facilities to provide safer and more effective treatment at a lower cost, for more indications, and with broader insurance coverage.
Our mission is to advance the benefits and practice of hyperbaric oxygen therapy.
For years individuals and organizations involved in hyperbaric medicine have been fighting to have their voices heard. Many have found that after countless hours of effort and testimony, that it was difficult to achieve positive results.
Hyperbaric Medicine Foundation, a 501(c)(3) nonprofit, was established to give individuals and organizations a national voice, bridging the gap between hospital clinics, free-standing clinics, individual practitioners, therapists, researchers, and patients.
HMF partners with all hyperbaric industry professionals, research organizations, government entities, practitioners of allied technologies, and other partners, to affect positive changes that will help both hyperbaric practitioners and their patients.
Leadership
HMF's leadership team, is comprised of industry professionals and physicians with experience in organizational development, hospital administration, medical insurance, safety and certification, patient advocacy, medical research, veteran initiatives, and non-profit management and fundraising.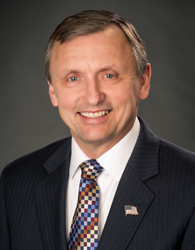 ---
Paul S. Hoffecker, CEO